Barter Cemetery Research, 2010
In a recent trip to Maine to visit family, Shauna and I decided to look up any possible cemeteries related to her Turner/Barter/Hupper ancestry. Rebecca Willard Turner was the third wife of Jacob Lindsay Workman and had come to Nauvoo from Maine as a young girl with her family. Her mother and father joined the church in Maine and moved to Nauvoo with their family where both parents, Nathaniel Turner and Betsey Barter Turner died leaving the children as orphans. The place where the Turner and Barter families lived at the time was an area called Saint George.
Saint George is the name of the area on a peninsula of land about 80 miles northeast of Portland. In searching findagrave.com, I found some Barters listed in the Seaside Cemetery near Tenant's Harbor on the peninsula. We set out one day to visit the Seaside Cemetery and see what we could find. On October 18, 2010 we visited the cemetery and found a number of stones with Barter names.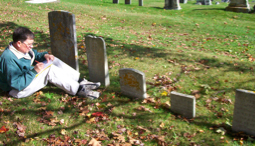 I recorded all that I could read and took pictures of the stones, wrote down what information I could and saved GPS coordinates of them all. Then we went on to visit other parts of the peninsula, including seeing Hupper Island off the tip of the peninsula. We found a number of place names that included Turner, Barter and Hupper.
While on the trip, I did not have much time to process the information I gleaned from the cemetery, but worked on that when I returned home to Utah. During that process, I also looked up to see what was known about those families we found in the Seaside Cemetery. To my surprise, the only information for the most part for these families comes from the census records. Because of the lack of information during the 10 year time-lapse between census records, a significant amount of information was not known about these families. One family in particular, the Henry Barter family, had missing and incorrect information recorded in church family history records. The most significant is the fact that Henry's wife Eunice died and he remarried and had more children. In the records, it showed Eunice, the first wife, but all of her children as belonging to Henry and his second wife, Mary. All children sealed were sealed to him and his second wife.
Also, in the process of researching what other records are available, I discovered that a book has been recently published where a few people have done extensive work in recording cemetery gravestone inscriptions of the St. George, Maine area, including the stones I found. This book was published in 2009 and a copy is in the LDS family history center in downtown Salt Lake City. Between our on-site research and finding information in this book, the following is found for the Barter families. Note that Henry T. Barter is the younger brother of Betsey Barter Turner, so his children are first cousins to our Rebecca Willard Turner. The other Barters listed here are also cousins or second cousins.
Henry T. and Eunice Teal Barter md. 26 Jul 1835?
   Elias or Eliot Barter b. abt 1837
   Matilda Barter b. abt 1838 d. Oct 11, 1840
   Peter Barter b. abt 1840
   William H. Barter b abt 1843 d. Oct. 6, 1865
   Cyrus Barter b. abt June 1845 d. Dec. 14, 1863
   Eunice (mother) died July 27, 1847
   Henry married Mrs. Mary Wall Nov. 22, 1847 (she was possibly the widow of Joel Wall)
   Isaac Barter b. abt Jan 1848 d. Jan 22, 1851
   Joel N Barter b. abt 1848
   Clara Barter b. d. unknown, probably early 1850's
   Mary E Barter b. abt 1853
   Adelaide Barter b. abt 1855
Of these, Eliot (Elias in the 1850 Census, p 45), Peter, William and Cyrus had been sealed to Henry and his second wife, Mary. Matilda, Isaac and Clara were not found in any records. We could not determine any dates for Clara on the stone, so I surmised that she was born between the 1850 and 1860 census dates, likely between Joel and Mary. Since we did not have a death date, we assumed that she could have been 8 or over so we did the baptism and other ordinances for her. The other children have now been sealed to the proper parents as well.
There were other Barter people found in the cemetery, but some are people we have not been able to link directly with the family (yet), but hope to do so. We are hoping that the book we found will help fill in a lot of information we need to find to complete these families and facilitate temple work that yet needs to be done.
For those interested, the gravestone inscriptions and GPS information are in the FindAGrave web site. For example, Matilda's gravestone is:
http://www.findagrave.com/cgi-bin/fg.cgi?page=gr&GRid=60657043
(Click on the picture of the stone to get the GPS coordinates.)
- Joseph Buchanan and Shauna Workman Buchanan
---
Return to Roger Barter family chart