Andrew Jackson Workman, Drawn off the old book, February 1875.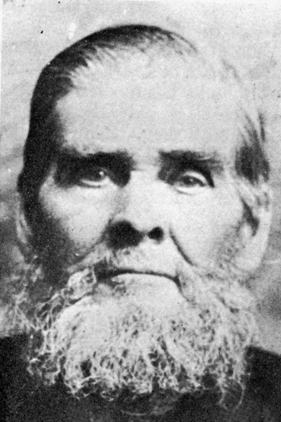 A short history of the life of Andrew Jackson Workman who was the son of John and Lydia Workman. He was born in the state of Kentucky, Bourbon County, July 15, 1824, and at the age of three or four years his father moved to Tennessee, Overton County and settled there following farming for a living. About the year, 1839, the first Mormon Elders came to the county to preach. His father, mother, and most of his brothers and sisters were baptized into the Mormon church. In the year 1841, he was baptized by Dwiqht Webster and confirmed by A. O. Smoot. In 1842, he left home with A.0. Smoot. They traveled into South Carolina and returned home the same year.  
In the spring of 1843, he started with his father and family for Nauvoo, Hancock County, Illinois, where the Mormons were settling. In the fall of the same year, his brothers Salmon and Stephen died, and in the fall of 1845, his mother died. In the spring of 1846 they were called to go west with the Church. A couple of years previous to this, the Prophet Joseph Smith and his brother, Patriarch Hyrum, were murdered by a mob in Carthage jail on June 27, 1844. Brigham Young, by voice of the people, was chosen to lead the church. He was President of the Twelve Apostles and the spirit of Joseph rested upon him.  He called on all who wished to flee with him to the mountains and in February they commenced to cross the Mississippi River and traveled west to the Missouri river.  Andrew drove a team for John D. Lee and E.T. Benson to the place called Mt. Pisgah. There he stopped a while with his brother, Jacob, until his father came up in June sometime. He lived with him until the 1st of July then he was called to go with a pioneer company farther west. He started and went to the Council Bluffs on the Missouri River and then was called to enlist with 500 others in the United States Army to go to California to fight the Spaniards and take the country. So he was mustered into the service and placed under the command of Col. Allen on July 16, 1846.  In a few days, they took up the line of march for Fort Leavenworth. On the way there, he was taken sick, and came near dying.
They arrived at the fort, staying there about two weeks, obtaining their arms and then started for California. After leaving there he got well and was able to stand guard in a few days. They traveled west for three months and arrived at Santa Fe, a Mexican town. They stayed there a few days and started their march again for California, all this time having to carry their muskets, equipage and clothing.  They were on short rations, without water, sometimes for two or three days at a time, and not having enough to eat, any of the time. They were glad to get rawhide, roast it on the fire, and eat it as they marched along. More than once, he picked up the grains of corn that the officers horses slobbered out and ate them and could not get enough to satisfy his appetite. So they traveled until they got through this way the last few days having almost nothing to eat, but they did get through alive and that was all. They were not only almost starved, but they were almost naked. They arrived on the Pacific Coast, sometime in January 1847. He said here that a small company of the battalion stopped near Santa Fe with some being sick and not able to travel so it was decided by the doctor that they return to what is now Colorado to recoup.
When the main group arrived on the Coast, they were quartered at San Diego a while, then they went to St. Louis Mission and got themselves in readiness to fight the Spaniards. But they did not have the pluck to attack us, so they stayed on the Coast until their year was up, which was in July 1847. Some were quartered at San Diego and some in Los Angeles. He was with a small company stationed at St. Louis Mission under the command of Lieut. Barnes. At the time they were to be discharged, they all came to Los Angeles or Pueblo and received our discharges. After we were discharged, Col. Stevenson wished a company of 100 of us to enlist again for six or eight months for the safety of the country for peace had not been declared yet. So along with 99 others, he enlisted again under Capt. Davis, one of the captains of the Mormon Battalion. They enlisted about the 1st of August, 1847, and in a few days marched to San Diego were he and 25 to 30 others were called to march to San Luis Mission under the command of Lt. Barnes to hold that fort from the Spaniards. They stayed there until the time of our discharge.  In the march to San Diego, they were honorably discharged which was in April, 1848, having served the Army of United States for one year and nine months in what is called the Mormon Battalion. After our discharged, Andrew and 16 others went to the ranch of Col. Williams, an American, which was about 80 or 90 miles west. We took a job of building fences for Col. Williams. The fence they made was called Adobe fence, and they were to make four miles of it. When they had about three and a half-miles done some of boys from the battalion came and showed them some gold dust they found up in the mountains so they quit their jobs and went up into the gold mines with them. They started out in August sometime and got there in 25 to 30 days. They found some men working in the mines and it was a few days until they got to work. Andrew did not make much for three or four weeks nor did anyone in the company make much in that time. They dug out a lot of gold but it took a lot for room and board.  He had to give a dollar a pound for flour and meat and other things in proportion. He only made $200 or $300 the first three or four weeks, so he thought he would change his place and try to find better diggings as they called it. Along with his brother, Cornelius, and 8 or 10 others, they went over north of what is called Mormon Island on the American River about 30 miles on the North Fork of the American River. They pitched their tents and went to work. The first few days earning a little more than their board, that as luck would have it, he and his partner found the rich pocket of gold. They dug up the dirt with pick and shovel and they washed out in the pan that would hold about eight quarts and in two days they washed out about $5000 in gold dust.

They then divided the money and he started for home. In November, 1848, they traveled about 50 miles on their journey and a while before they got to where they were going to camp, Edwin Corkins (one of their party) decided to the take a shortcut by following an old Indian trail and he was never seen again. But they saw an Indian riding his horse, so they killed him and took the horse. Our company consisted of Andrew, his brother, C.C. Workman, Philander Hutchins, Jerome Zabrinski, Lot Smith, Harold McBride, Edward Walker, Philo Carter and Hiram Fellows. They stopped and hunted for Corkin for two or three days and then went down to what was then called Mormon Island and bought a few good rifles and other weapons and ammunition and started for lower California some five or six hundred miles down the coast. But they stopped at Williams Ranch to fit up to go to Salt Lake City, Utah Territory. They stayed there a few weeks then Ebenezer Hanks came in from Utah and gave them the word that their company was too small of a company to go. They would not be safe on account of the Indians so they stopped a while to get more company.

Andrew and his brother, Cornelius, and the two Fellows, Williams and Hiram, went to work on Col. Williams Ranch. And while they were there, someone stole about $5000 worth of gold dust from him and his brother.  And since they did not like to go home without any money they left the Williams farm that they had rented and went back to the gold mines. In the spring of 1849, they worked about six months and did well making about 8 or 9 hundred dollars in good mules, with which they were packing goods into the mountains for the miners. But one morning the Indians got up too early for them and got off with their mules. They lost about 40 head belonging to Mr. Peacock, his brother and himself along with about as many belonging to some Texans who were camped near them. They followed the Indians but did not get back their animals. Andrew was sick at the time and could not go after them himself.

So that left him broke again so he went to San Francisco and worked there for some five or six months in the spring of 1850 and did not get any pay.  He went to the mines again and stayed there, with about the same luck, until the spring of 1852. Then he took a steamer to lower California, about 600 miles down the coast, to a place called San Bernardino where the Mormons were settling and stayed there until the spring of 1856. Then in company with George Wilson, John H. Hollings, Elmer Taylor, and others, he left for Salt Lake City. He arrived there on May 24th and in June got married to Rebecca Dack and started back to San Bernardino in September. Arriving there in November 1856, they stayed there until December, 1857, and then started for Utah again. They arrived at Cedar City, Iron County, in February 1858. Stayed there until October, then moved to Fort Harmony in Kane County. Stayed there until January 1859, then moved to Virgin City, Kane County, Utah Territory, on the Rio Virgin River Valley for the purpose of raising cotton and fruit.

In March, he had the misfortune of getting shot in the foot by an Indian carelessly setting down his gun. He was laid up for five or six months. January 1st, 1861, found him on his feet again ready for work. This year quite a lot of families came in from one of the northern settlements and settled with them. And 1864, he worked on the water ditch until June then he rented his place and started with his wife and children for Salt Lake City for a visit. Stopped for a while Provo and worked then onto the city and worked there until October then started home arriving at home all right. In 1863, worked on the water ditch and farm and in a little while his wife, Rebecca, had a fine son born June 19 and they called his name William Manti up after the city of Manti in the book of Mormon. In 1864, worked on the ditch and raised some cotton, wheat, and started to build a house. Burned brick and hauled them onto the ground.

In 1865, he laid partner walls of his house and on Christmas Day, was called to part with his wife, Rebecca. She died in childbirth, taking cold three or four days after the child was born, and died in two or three days more. The child, a fine boy, was called Joseph James. He lived until October then died.  They buried him beside his mother. That left Andrew with three children: Louise, Evelyn, and Manti.

In 1856, he thought he would get married again, so he made a bargain with Mrs. Sarah Anna Johnson Eager, the widow of John Eager, who died two years before. They started for Salt Lake City to get married on March 3rd and got married March 17 by W. Woodruff.  Started home and arrived there, all well, in April and moved into our new home before it was finished, but he managed to get the roof on in a few months. And he raised a small crop of cotton and wheat, and then in December, the 18th, his wife Sariah had a fine boy. They called his name Amos Jackson. In 1867, he stayed home and worked on the water ditch and also farmed a little. Had plenty of fruit, apples, peaches, and nothing much interest happened in 1868. They were bothered very much with their ditches, trying to get water to stay in, but they managed to raise a tolerable good crop. His wife had another fine son, called his name Nephi Johnson, born July 9, 1868. We had a bishop named John Parker, ordained under the hands of the Erastus Snow.

In 1869 he rented his farm to his brother, Jacob L, and took his wife and part of the family on a visit to the northern part of the Territory. They got their visit out and arrived home in June of the same year. All well, but they found plenty of grasshoppers which had eaten up all the wheat and some of their corn, though they still had plenty of fruit, so they ate well. In this year the great railroad across the continent was finished. In May, 1870, he sold is farm and bought one down the river, moved his home and farmed it himself, but the grasshoppers done them some damage, but they still had a tolerably good crop of wheat and his wife had another fine son, born September 3rd, 1870. They called his name Charles Adelbert. He erected his arbor and built a small addition to his house.  He had some five kinds of apples in his orchard. In 1871, he rented his farm to A. L. Stratton and they did not raise much, lost all their cotton to the grasshoppers, and they damaged the fruit some. This year, President Brigham Young came down from Salt Lake and stayed in St. George a month or so to see the country and preach to them. Andrew made some more additions to his house and improved his lot a little, and got the timber together for his barn, at least for most of it. They, also this year, commenced to cooperate with our stock on Kolob, and also commenced with a cheese factory, with John Parker, president of the land, George Spillsbury, vice president, and N. Black, secretary. They did tolerably well, for beginning.

In 1872, he built a small house on his farm, and moved down there and put in his crop. Stayed there about two months, then moved back to town. On the second day of July, his wife had another fine son. They called his name Edwin Monroe, and in September his wife started to Salt Lake City with their two sons, John and Joel. Was gone one month, got back all well. Brought back a load of goods for their cooperative store. Andrew stayed home and tended the farm and orchard and raised the crop of grain, cotton and fruit, molasses, and put the frame of the barn.

In the fall he also made his first wine of any amount. In 1873, in the spring, he commenced to improve his farm. Made defense on the east, and opened a lane between William Haslam's farm and his own. Put in a crop on his field and the city lot. He also butted some mortgage fruit and made some improvements on his lot by setting out some fruit trees and vines, and also commenced to make him a cellar and a granary on top of it. He done out the seller and laid up part of the walls. He also boarded-up and put on the roof of his barn and gathered in the crop of hay, cotton, and wheat. Their fruit was all killed off in the spring by frost, all but a few apples, wild plums and currents.