History of James Ellis Shirts
Born 15 March 1866, Died 31 May 1945
By Susan R. Bentz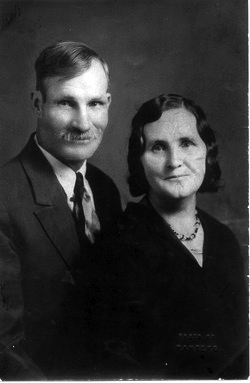 James Ellis Shirts (Jim, his personal signature was J.E. Shirts) was born March 15,1866 in Kannarrah(ville), Iron Co, Utah, the sixth child and fourth son of King Darius and Margaret Haslam Shirts. He grew up a farm boy with few luxuries of this world as the pioneer family moved from one settlement to another. When he was sixteen years old the large family thus ending a chance for an education. He has six brothers, William Darius, Moroni, George Henry, Joseph Francis, Reece Napolion and John Wesley and had four sisters, Margaret Ann, Mary Elizabeth, Mary Ellen and Sariah Jane. Jim left home at the age of eighteen. He lived the next year with the William McDonald family- his aunt Sariah in Heber, Ut then went to Park City, Utah to work in the mines. It was at Green River, Utah that he met the girl who later became his life-long companion when at the age of twenty-four on Oct 14,1890 at Vernal, Uintah Co, Territory of Utah, Lydia Musetta Workman, age of fifteen, became his bride, the ceremony was performed by Jeremiah Hatch, a minister of the Gospel and witnessed by the father of the bride, H. S. Workman and Peter Hansen. They were later married for time & eternity in the Salt Lake Temple on Sept 9, 1903. Their first home was at Vernal, Utah for a short time then they moved to Burns Fork Uinta, Wyoming on the Utah-Wyoming Border. Jim engaged in farming and cattle business, he worked on ranches in the area and in the timber to obtain funds to buy the cattle. An industrious man, he did well at making a living for his family wherever he went. From Lone Tree Wyoming they moved to Provo, Utah, they bought a ranch on the Provo Bench, a beautiful orchard of peaches, plums, apples,& pears. Jim would take a wagon load to Heber to sell once a week while the fruits and vegetables were in season. They moved to Victor, Idaho for one year then they moved to Taber, Alberta, Canada. Jim operated the ranch and worked as a head pump inspector for the Canadian Pacific Railroad. They moved back to Provo, Utah. Jim was on the board of directors of the Fransworth Canal Co. Jim & Muse loved to dance and Jim was considered a very good dance caller and manager. They moved to Mountain Home, Duchesne Co, Utah, they built a large sawed log house with two stories high with a huge fireplace in the living room. All his life Jim had the mining "bug" and it again took hold, they moved to Stanley Basin, Idaho. They came to Hailey, Idaho in September 1922. Jim & Muse celebrated their fifieth wedding anniversary on Aug 14, 1940 with a family dinner, all being present at their home on North Main Street in Hailey, Idaho. In 1936 Jim worked at Sun Valley, Idaho at the beginning of construction and helped build and care for the ice rink. He was very kind man, tall and raw boned with hazel colored eyes that wrinkled, especially when happy or when thought he was keeping a secret hair with a slight wave, parted on the side- a dashing mustache worn from young manhood- straight and slim. After an illness of thirty days he passed away at his home in Hailey, May 31, 1945 at the age of 82 and was laid to rest June 4, 1945 in the Hailey Cemetery. He never held an imposing office, but an elder, the church of Jesus Christ of Latter-Day Saints. He was a Ward teacher and had a love of the Gospel.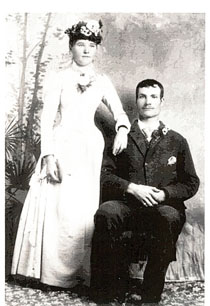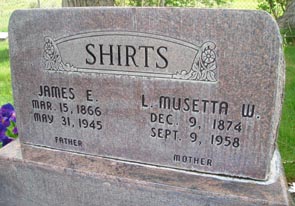 srbentz@cox.net
http://www.findagrave.com/cgi-bin/fg.cgi?page=gr&GRid=25177996
---
Back to Workman Family History web pages.