HISTORY OF JOSEPH NIMROD WORKMAN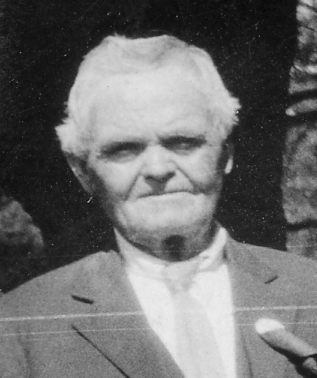 Joseph Nimrod. Workman was born 15 Aug. 1852,in Salt Lake City, Utah. He was the son of Jacob L. Workman & Fannie Harris(Morrison)Workman. Joseph lived, in S.L.C. until the year 1863,when his father was called to go to Utah's Dixie, Wash.Co. to settle that country & also to see if they could raise cotton there. The climate was warmer there than other parts of the state & since it was very hard for the people in Ut. to get cloth of any kind for clothing, Brigham Young sent a group to experiment with this project. Jacob L. and his brother Andrew Jackson were among the men who were sent down there. These men were born & raised in Tennessee & Kentucky & they had seen how cotton grew.
All of the families who went down there at that time had to endure a great many hardships before they could get the land into condition to produce any crops. They almost starved to death since wild game was not plentiful here. They did have some success. The Church wisely abandoned this project & told them to raise other things. They soon had the best fruit orchards in the western country.
When Joseph N. was just a lad, he hired out to a large ranch close by as a helper on the farm & while working here, he learned to ride horses very well. It was said. that he could ride faster than anyone else-there. The Indians called him "Little Joe",& they said he could ride the fastest horses and beat anyone around there in a race.
About this time, the little settlements were having bad trouble with the Indians & the Gov't appointed a militia to help protect them. Joseph was drafted as a member of this Militia. He was just l4 yrs. old. Joe had herded sheep & cattle all over the mountains in this area. He knew the roads and trails well. This experience came in handy for him since he was appointed to ride & warn the settlers when the Indians were going to attack. Some of the settlements were 25 & 30 miles apart. He had to ride on horseback and still get there in time to warn the people.
Virgin City was the first settlement in the country at that time & was the headquarters for all of these things. So Joseph was on call both night & day. This lad of l4 was not afraid & he showed his bravery in many ways. One night, he was told by the Commander to ride 25 miles to the little settlement of Toquerville, Utah, & tell them the Indians were on their way to attack their village. Since there was no time to lose he was to go on the road. But when he got to the turn which would lead him along the ravine where the road went, his horse stopped & would not go on. He tried to make the horse go on & just then he heard a little voice which said "Do not go by way of the road, but take the trail". He had always been an obedient child & since his Commander said to take the road he felt he must do so. He tried again but the horse refused to go on. He heard the voice again & this time he obeyed & the horse went without any urging. He made good time & did arrive in time to warn the villagers & they were able to protect themselves from the Indian attack.
The next morning when he left to go home, he followed the road & when he got a short way from where his horse had refused to go the night before, he could see where there had been a band of Indians laying in ambush to capture him. Another time when Joseph was sent to warn the people in Rockville, Utah, 30 miles away, he took the trail around the mountain thru the brush & trees. It was bright moonlight,& he could see the road very plainly & he found he was above another band of Indians who were on the road waiting for him to come along. When Joe left on this mission, his mother sensed the great danger & she begged him not to go, but this lad knew no fear & he told his mother that he must go or all those people may be killed. The mother waited anxiously all night praying for the safety of her son. Joseph outsmarted the Indians once again and was able to warn the people in time for them to protect themselves.
For several years Joseph had many more experiences like these as he spent many hours in the saddle filling his assignments. Sometimes he worked around the clock without any rest. After the Indians were under control, the militia was dissolved and many of the men were discharged. They were given a pension for their work but because Joseph N. was not quite 18 years old at this time he could not qualify for a pension & never did receive any compensation for his work.(Same with A.S.W. his half brother)
The settlers had no schools for their children, so they never had an opportunity to get any kind of formal education. They all had. to work most of the time to help provide food & clothing for their families. Joseph Nimrod taught himself to read & write & he learned some arithmetic. In talking to him in later life, you could never know that he wasn't able to go to school. He made the best of his life & he became well read & a learned man. He was a wonderful man, good & kind to everyone. All of the people were his friends. Little children loved him. His daughter Elizabeth said that when she was just a small child, she remembered how all of the boys came to go with him every time he went to his farm, which was 5 miles from town. He would take any who would go home first & ask permission. They loved to go & do the little chores he gave to his own children to do.
On Mar.5,l8?9 Joseph married Sarah Ann Wright in the St. George Temple. Ten children were born to this couple, all but 2 born in Virgin, City. Their names were: Fannie Elizabeth,13 Apr.1880; Joseph Edjnond,9 Dec, l88l Lindsay W, born 5 Nov. 1883. He died 3 May 1900, at ? yrs of age. Hannah May W. born 24 Oct.1885; William D. born 5 Jan.l88?,died l6 Apr 1903 unmd; Francis Monroe.2 Feb.1890; Sarah Elva, 27 Mar.1892; Pearl Josephine,1 Mar 1894. Lydia Uzella,15 June 1896,at Berry Springs, Wash. Co. & Evan Owens born 29 May 1903 in Vernal, Uintah, Utah.
While the family lived in Vernal, Joseph met a man named Parden Dodds, thought to be the first white child born in Ashley Valley. At this time most of the land around this valley was owned and inhabited by the Indians. Joseph and Parden Dodds herded cattle for a man from Chicago, Ill. One time these two men drove a herd of cattle from Chicago, Ill. to Ashley Valley where these 2 men lived and herded cattle among the Indians. This was before the Gov't. put the Indians on reservations.
Mr, Dodds was not very good to the Indians and sometimes he was cruel to them. Many of them were not friendly with him and they did not trust him. On the other hand Mr. Workman was their friend and they would do most anything he asked them to do. One day a band of Indians came to the cabin of Mr. Dodds and said they were going to kill him. They were all dressed in their war-paint and feathers. Joseph had heard they wanted to kill Mr. Dodds so he went immediately to his cabin and talked to them. He persuaded them not to kill this man and he said that they would remove the cattle from their land in this valley where the Indians lived. Joseph & Mr. Dodds did take their cattle to another valley where the Indians did not live. This man's life was saved by his friend and partner. If Joseph had been like him they would both have been killed by the Indians, at this time. In later years, Joseph moved his family to Tooele, Utah, where he worked in the Tooele smelter. It was here that Joseph got lead poisoning from working in the smelter. Then the family moved to Perry, Utah, a little settlement just a few miles south of Brigham City, Box Elder Co. Utah. Joseph and his family made their home here for several years. While here he died from the effects of the lead poisoning which had turned into consumption, at the age of 80. He is buried in the Brigham City Cemetery. Joseph N.W. was a high priest in the Perry Ward when he died. He had a wonderful testimony of the gospel & was a very devoted husband & father. Indeed one may say that he was one of God's choicest spirits. His religion always came first in his life & he taught all of his children to live by these principles.
His oldest daughter tells the following experience. When her father was a boy, his mother had made him a pair of buckskin pants. Joseph was very proud of them as it was very hard to get clothes at this time & they had to take very good care of any they had & to make them last a very long time. One day when he was crossing a river, he got his pants wet & they stretched & came down over his feet so he couldn't walk. He took his pocket knife & cut them off, but when they dried up, they shrunk again and then they came up above his knees. His mother was very angry with him when she saw what he had done.
When Elizabeth, his oldest daughter, was just l4 yrs. old, she was hired by a family to help in the home while the mother was ill. When she left home the first morning, her father said to her, "My dear, you are to earn some money of your own and one thing I want you to always remember is that ten cents out of every dollar you earn belongs to the Lord. I hope that you will never forget to give Him His share." This father believed and always lived by the principles of the Church & he taught his children to live by them too. He never had a chance to receive an education like most people today, but he taught himself the fundamentals of education so that he could deal honestly with his fellow men.
(Written by Fannie Elizabeth Workman Jacobs. - 1964) (for the Workman Family Organization)