MILLIE BATHENIA DEVOO– 1st Wife of Abram Smith Workman
(or Bethenia)

This history begins with her grandparents, William Wheaton and Orpha Brooks. They had 12 children, Phoebe in 1802, Silas in 1804, Miles B. 1 Mar 1806, Bathenia 27 Mar 1809, Jacob 5 Sep 1810, Henry 1813, Eunice Feb 1815, William 1817, Reuben 27 Feb 1820, Rebecca Clarissa 22 Feb 1822 in Neversink, Sullivan, Duchess, N.Y. George Wheaton 12 Feb 1824 and Olive Wheaton 13 July 1826.
Child #10 Rebecca Clarissa married James Miles (Devaux) Devoo in 1845. He was a farmer in Woodhull, Steuben, N.Y. They had 6 children all born here. Mary 1847, Matilda 1848, Miles 1849, Charlotte 1851, George 1853. Their 6th and last child was a girl born 27 Jan 1855. When she was just a month old her mother died. The baby was being cared for by Betsey, the sister of Lewis Brewer. He was married to Clarissa's older sister Bathenia.
A group of people in Steuben, N.Y. had joined the Church of Jesus Christ of Latter Day Saints. Their Branch was called the Wheaton Branch. And the president was Silas Wheaton, Clarissa's older brother.
In the 1855 Census it lists the people living at the home of Silas Wheaton, Erin, Chemung Co., N.Y. All of Rebecca Clarissa's family were living here. James Devoo age 30 (Boarder) and their children. Mary 8, Matilda 7, Miles 5, Charlotte 4, George 2, and Millie born 27 Jan 1855 (mother died). We don't know the month of the Census. We know that Millie was given a Name and a Blessing by Silas Wheaton and that she was brought to Ogden, Utah, by her Aunt Bathenia Wheaton and Uncle Lewis Brewer. (This makes me think that Millie could have been christened Millie Bathenia Devoo.) She was baptized in North Ogden, Weber Co., in 1863 by Henry Holmes and confirmed by Bishop Dunn.
The family then moved to Dixie, Virgin City, Utah. This is where Grandpa Abram S. Workman first met her. We turn to his 1st History. In 1862 Brigham Young called Jacob L. Workman to go to Dixie Country. His family settled in Virgin City. Abram S. was 10 years old. Because of Indian troubles he was always called on to do a man's work.
"In 1868 when I was 16 years old, the other boys left for work elsewhere. My father was sickly and my mother would not let me go. My father took the contract to herd the Church Cow-herd for 6 months. While he did the farming, I did the herding barefoot over rocks and prickly pears. I received 3 cents per head per day with an average of 100 head. I was very happy when the 6 mo was up. My childhood was sad. I thought death would end my problems but death would not come. I would think of the future and long for the time when I should be a man, and with the woman of my heart I would enjoy a happy home of my own. "
"In 1869 when I was 17 years old I learned to make adobe bricks. This was a blessing in my later life. In 1870 my father's family farm was too close to the river and in the Spring the water was so high it washed away most of our land. He now bought 8 acres of land 8 miles south of Virgin. It was called Gould's Ranch. ( Many boys Abram's age had gone to Nevada to work in the Mines. They would come back to town to show off their new clothes with money to spend. Abram's mother Rebecca would not consent to let Abram go.) In this same year I was 18 years old and took a fancy to a girl of humble condition and chose her in my heart as my future wife and longed for the time when we should be happy together, for in that way all the happiness in store for me on earth seemed to be. For a very little happiness had I ever seen or was even likely to see in my present condition. The girl was shy and nothing of importance happened between us for 2 years."
By 1872 Abram's family was settled in their new adobe home at Gould's Ranch. They had fenced in the farm and stored a little grain. Now Abram left his home May 1, 1872 & signed on to work for Wm. Wright on Kolob Mt. herding stock for 6 months at $28 a month. "The company had a house and corral already built. Charles Brewer and I were left there. We had brought up a herd, plus cows and calves. We were to look after them and build a calf pasture 2 weeks before the women came up. We get up as soon as it is light and milk the cows, make breakfast, chop poles, and make fence till time to get the cows and milk them. By the time we get through it is dark. We do the same every day except Sunday. The girl's father that I spoke of moved his family on Kolob just 4 miles from where I worked.
"About the middle of August my father came up the Mountain about 5 miles from where I was working with Charles Brewer. He wanted to get a log to have sawed to dry fruit on. He brought my sister Jane as she was friends with Millie Brewer. The next day being Sunday, I started down to see them. When I got half way, I met them on one of father's work horses coming to see me. I said: 'One of you had better get off and get on behind me.' The neighbor girl jumped off and climbed up behind me. I seemed to feel like there was something different than I had ever felt before. My folks went home the next day. But I found a lot of pleasure going down to Brewers.    My business often called me at this place. When with them I spent the happiest hours I had ever spent in my life. I told Millie my plans. When my six months were up I was going to S.L. where I had lots of folks. I could get work. And in about 4 years we could be married. Millie thought this was all right. But when my folks heard the plans, my mother would not think of me going off. Her folks were also opposed but did not say much. Father offered me part of the Ranch and he would give a pair of steers. So then it was decided that we should get married at once. I finished my 6 months with Kolob Co. on Nov. 2, 1872 . We were married in Virgin City by Bishop Parker Nov. l7, 1872. I was then 20 years of age, married, poor, and penniless. The name of my wife was Millie Bathenia Devoo. She was better known as Millie Brewer. I thought she was an only child and that was her name." However the Brewers had 3 grown sons. In 1869 or 70 she received a picture of her biological father taken in Michigan. This is the last she heard from him.
Our first home was a borrowed wagon box. My father said, if I would help him build 2 rooms on his house, we could live in 1 of the rooms this winter and next Summer he would help me build a house. So our next home was a room 8x13. I traded for a little 2nd hand cook stove, made a bunk to sleep on and made most of our furniture. Father and I had to make our own work, so we built a lime-kiln and went to burning lime. We got the job to burn lime for plaster for 2 big houses, 1 at Pipe Springs and 1 at Cannon.
In the Spring of 1873 I managed to get the lumber, shingles, nails and glass and Father helped me build a 1 room house. Millie's brother (Miles or George) was a carpenter. He made us a bedstead with rope for springs. We were as well fixed as any neighbor and we didn't owe anybody. We moved in the 7th of August and we were as proud of it as if it had been a mansion. The home we had longed for God had given to us. Though humble, we had plenty to eat, comfortable clothes, and we thanked God night and morning for the blessings He had bestowed upon us.
When August came we were looking for an addition to our family. Millie's Mother lived at the Sawmill 15 miles away. One of her brothers took us there. It took all day. Our first baby was born Aug. 24, 1873. We named her partly for her mother Millie Bathenia and for her mother's mother Rebecca Clarissa, so our baby was named Clarissa Bathenia. When the baby was 2 weeks old the same brother came to take us home.
It was a long hot day and Millie was not a strong woman, but very ambitious. The next day she did her washing but was then sick for 3 months.
  "We made molasses from sugar beets. Now we must sell it to get flour for bread. Abram got his brother Neal to go with him to sell the Molasses. They were gone 2 weeks longer than they expected. But they had gotten wheat, had it ground into flour, and secured a new pair of shoes for Millie." Soon after getting home the Bishop called him to go and donate a month's work on the St. George Temple. He enjoyed this very much, but when it was time to go home, he had to walk 32 miles up hill over sand and rocks.
Their next problem was the United Order. This brought chaos to Virgin City because of some men's selfishness. There was just me, my wife, and baby, so we were asked to move to town and help others get ditches dug. When Abram was nearly finished and ready to go home June 1874, Navajos living across the Colorado River threatened to raid Virgin. A group of men must go down to guard the crossing. Virgin must furnish 1 man with an outfit to be gone 3 months. Of course it would be Abe Workman. He could leave his family for 3 mo. Abe respected his Bishop but said: "You sent me off once before with only a sack of flour. This time I want an outfit, 1 horse or mule and wagon, a sack of flour, a piece of bacon, a bucket, & a can of wagon grease." Men came from other communities. They arrived at the River July 4, 1874 in terribly hot weather with instructions to build a Fort and guard different River Crossings. "We were just ½ mile from John D. Lee's property. We started building the Fort at Lee's Ferry Crossing. We made beef jerky. We cut the meat in small strips, put it in a kettle of boiling water for a few minutes, then hung it out to dry just as a terrible sand storm came. It was so gritty it made our teeth sore."
ADVANCED GUARD TO LEE'S FERRY - July 4, 1874 by A. S. Workman
We left our homes in Utah, It seemed so very hard
To go to the Colorado, And there keep up a guard.
The wind it blew so hard, and the sand it blew so thick
We had to clean our eyes out with a sharpened stick.
When we got to Winsor's Pipe Springs where the wind it blew so free,
A cow jumped over our wagon tongue and broke our whipple tree.
We wrapped it with a stay chain, and tied it with a string,
We worked it on – to the Kanab – and had it fixed again.
We stayed all night at this place, and had a little Ball.
The music it was good, but the house it was too small.
When we all got into it, we could not turn around.
So we went out in the door-yard and danced upon the ground.
Our Bishop sent a bucket which was made of wood.
This would serve our purpose, and thought it very good.
We took it out to soak it up and set it by a well.
And that's the last we thot of it. It's lost as sure as hell.
We traveled on a few more days until we got to Lee's.
Here it is as hot as hell without a bit of breeze.
And when the wind did come, it all came in a flirt.
And golly it was hot enough to almost burn your shirt.
Now we are on the river, and the cliffs they are so high
We can't see out but one way, and that's up in the sky.
The river it is muddy and it smells just like the breeze,
That comes from the little house that stands among the trees.
Our tea is thick with sand and our bread is full of grit.
The wind blows sand all over us whenever it sees fit.
So talk about your gritty men, I think we'd take the prize.
We are sanded in and outside, and all around our eyes.
"I had left home in June , September was nearly here and I had not heard a word from home since I had kissed them good by. So you could not blame me if my hands shook one day when a man came up to me and said: 'Here is a letter from your wife. Although it had been so long since I had heard from her, it would have almost been better if it had not come. The main thing it said was, 'I am feeling quite miserable. I have started up again. I am needing a few things quite bad. I went to the store. I did not see the Bishop but I asked his wife that ran the store if I could get a few things. She said 'No, let Abe get them for you like he has always done.' "
That had almost broke her heart. You can imagine how I felt. I went to the Captains and told them to let me go home. They said: ' You had better stay. We don't think it will be long now till we can all go.' So I had to swallow that pill no matter how bitter.
One day the U.S. Indian Agent from Fort Defiance and some Indians signaled to cross the River. We went for them. This devil was responsible for all the Navajo raids but now wanted peace. We found out that he had been with Johnston's Army and was mad because Mormons had kept them at Fort Bridger all winter in the snow. The 3 leading chiefs of the Navajo's signed a Peace Treaty so our Captain said: 'You can now all go home.'
When I got home from the Colorado I put in my time to the secretary of the United Order. I did not ask the Order for anything to my credit. But I did ask the Bishop for that light wagon I had used down on the river. I wanted to go to Salt Lake to have my Temple Work done. But he refused me. So I took my wife back to our little adobe house. (This family had no appreciation for the United Order. It seemed a big mistake and soon came to an end in Virgin Communities.)
Abram's father, Jacob L., had started the Sunday School here. Abram and Millie always loved the Sunday School even though they lived 8 miles from town. They always tried to attend their meetings. They left home 7 AM Sunday Morning, attended two meetings, started back at 4 PM to be back home at 7. They always had family prayer and had fervent testimonies of God in Heaven and how they must be able to forgive the Bishop and other people. Abram said: "We should not trust a person just because he has money. But find out how he earned it and see if you want to make money the way he has."
November came and they were expecting another baby. No doctor was available, so Abram's parents Jacob L. and Rebecca took care of everything. Nov. 21, 1874 our second girl was born. We named her Lucy Emma. She was blessed by her father 12 Dec 1874. Now we had 2 little girls and we thanked the Lord for them.
The whole year of 1875 consisted of very difficult times for this family.
"Millie's father and brothers were still working on Kolob Mountain shaving shingles and hauling logs to the mill for lumber. They could not make much, but it provided a little, so I decided to join them." April 1876 quote Abram's history: " Ralph Campbell and I had been on the Mountain for some days. We were coming home tired and hungry. I thought of what I would meet when I got home, and what he would meet. He had lost his wife some time before and was keeping house for himself. How sorry I felt for him. I did not realize how soon I would be left in the same fix. We were expecting another baby the first of June." Aunt Effel Riggs tells us the following: "Abram was away at work. Millie went for a walk and saw a bank of snow back under a mountain bank. As the water was hard at Virgin, she filled her large apron with snow, climbed back up the bank and walked some distance to her home. The cold of the snow against her belly may have killed the baby."
Abram said: "When I started off to work one morning, I just got to the gate. Millie stepped to the door and called me back. She pointed to the floor and it was spotted with blood. For the next 2 months we had sickness, poverty, and she was slowly going. Nobody knew what to do. She got a little worse every day. Our prayers, our works, nothing would stop it, and at last bleeding to death." Millie Bathenia died June 1, 1876. The baby was removed from her womb, dressed , named Millie Rebecca, placed in her mother's arms and buried with her in Virgin Cemetery. Abram wrote the following song.
I once had a home that was happy and free
The cares of this world they were nothing to me.
I had no desire this wild world to roam,
But the place of my heart was my own dearest home.
But now I am lonely. My home is no more.
There is no wife to meet me with a smile at the door.
And what is a home without her smiles to cheer.
There was no one on earth that to me was so dear.
But Death like a serpent with poisonous wing,
Has flown through my home and has left there its sting.
For my wife has departed; In her grave she was lain,
And she has left me to mourn until we meet again.
Come all you that has a home that is happy and gay.
Be kind to your wife, for you don't know the day
When you may be parted and loft lonely like me.
Then the days of the past you will long for to see.
In 1876 Abram's sister Fanny didn't have children as yet, so she took Clara and Lucy while he hunted for work. After a while he moved back with his mother Rebecca and she took care of the girls. In 1877 when the St. George Temple was finished, his father Jacob had some temple work to do. And Abram was anxious to have Millie endowed and sealed to him. This was done 13 June 1877. Both James Devoo and Rebecca Wheaton were endowed and sealed 14 June 1877. A. S. Workman and Fanny Louisa W. Stratton stood as proxies.
In 1878 Abram's sister Nancy was now married and living in New Harmony. She thought that she could do better by my children than my mother. So she took them. My children would beg me to get them a new mother. I said: 'Would you like an Indian mother?' They would quickly answer 'No.'
June 5, 1879 Abram was married and sealed to Julia Hatch in the St. George Temple. They picked up the 2 girls, Clara and Lucy, in New Harmony, and took them so they could be sealed to their parents, Abram Smith Workman and Julia stood proxy for Millie.
This History edited and written by Julia Erickson Streadbeck. (2002)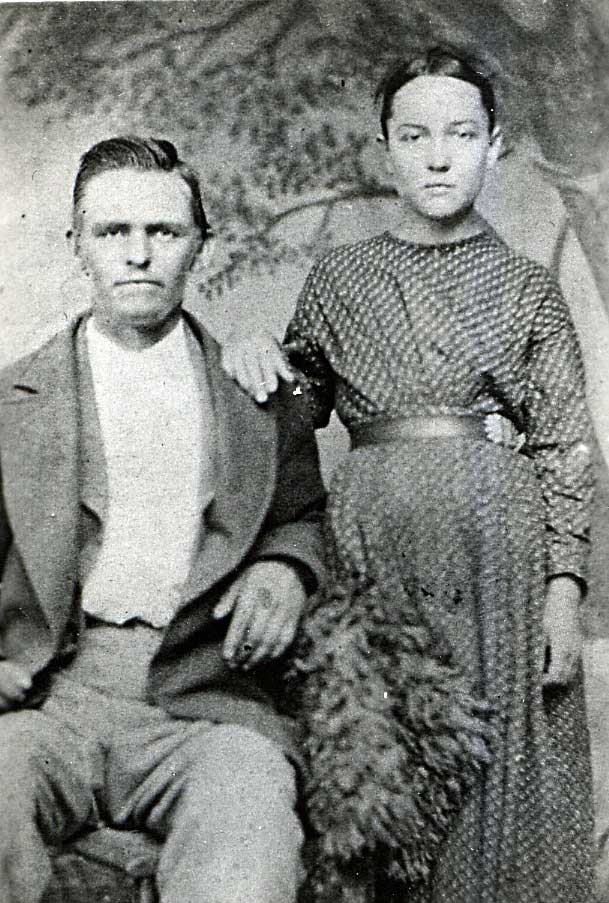 Abram S. Workman, Millie Devoo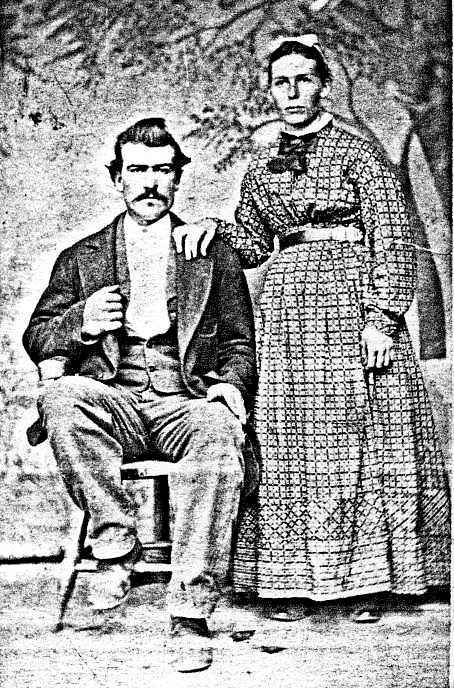 Charles Brewer and Wife



Millie's Father James Devoe 1869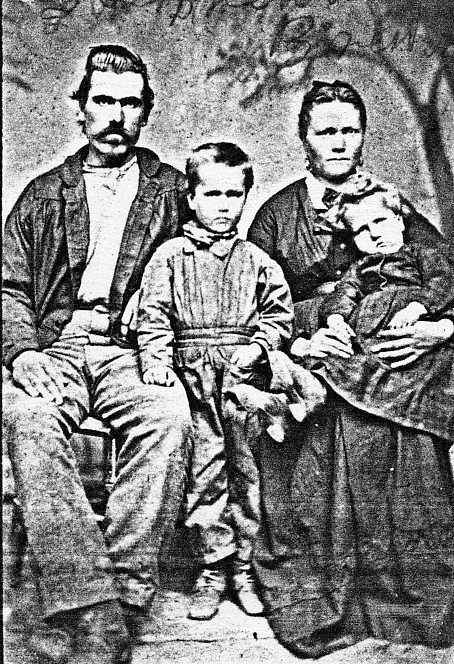 Miles or George Brewer & Family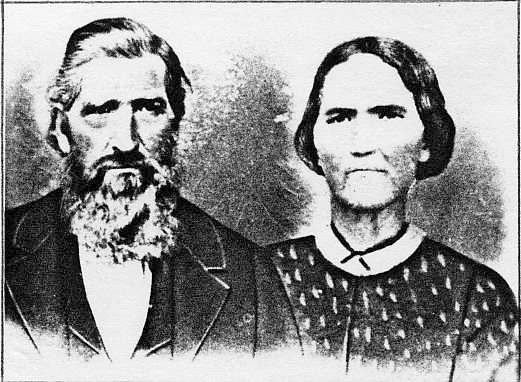 Lewis Brewer wife Bathenia Wheaton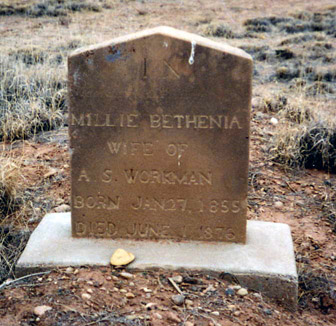 Millie's grave site in Virgin, UT