HISTORY OF NETTIE PERCENA WORKMAN ALLEN
Taken From "The Long, Long Trail" by Donald E. Matthews, 1994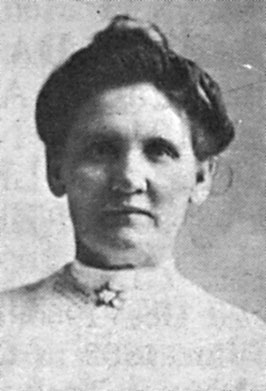 Nettie Percina Workman Allen was born the 14th of January,1873, at Gould's Ranch, which was about eight miles down the Virgin River from the little settlement of Virgin City, Washington, Utah. She was the fourteenth child of Rebecca Willard Turner and Jacob Lyndsay Workman. Her father had been called with other families to go to this part of Utah and build a settlement there for the purpose of experimenting with the warm climate to see if they could raise cotton here in Utah. Jacob Workman had been raised in the states of Tennessee and Kentucky where they raise cotton, so he had been chosen for this mission.

The families who went to that country had to endure a great many hardships and went hungry many times before they were able to harvest enough food to feed themselves. Water had to be brought from the river to water the parched land before they could raise any crops; then in the summer, floods would come down the river and wash out the dams, and before they could repair them, the crops would be destroyed. There was very little wild game in the mountains around there, so the early people suffered a great deal from the want of food and clothing and many of the necessities of life.

They named this little town here on the banks of the Virgin River, Virgin City. Jacob Lyndsay built the first house here and his second wife, Fannie Harris Workman, lived here with her family. Jacob bought a little ranch eight miles down the river from here known as Gould's Ranch where his wife Rebecca lived with her family.

This was not an easy life for these early pioneers, and while they did have some success at raising cotton here, it didn't turn out to be as good as they had hoped. The President of the Church, Brigham Young, later told them to use their time at doing other things for their own livelihood. Jacob Lyndsay gave his life trying to subdue this country so the people could live there in peace and plenty.

He departed this life the 28th of July, 1778, at Gould's Ranch, surrounded by all the members of his family who were close enough to get there. He left both of his families in very poor financial circumstances. He had been sick for some time and had not been able to work. He was a noble man, and while he didn't leave much of this world's goods for his family, he did leave them a wonderful heritage. He was one of God's noble sons, and he lived the principles of the gospel as nearly as he knew how.

A few years after the death of her husband, Rebecca, still having seven children to support, sold her little farm and a few head of cattle and joined a group of families who were going down to Arizona.

The government had opened some land down there for home steading. Rebecca had two sons partly grown. Nathaniel was sixteen years old and Erastus was almost fifteen. She went where she could homestead a farm for them so they would have something to work for which would make a living for the family. The land was quite close to Fort Apache, where the government had soldiers stationed to help protect the people of Arizona against Indian raids. The older boys were able to get a little work there until they could get the land in shape to plant their crops. The crops were growing fairly well when the floods came down the river and washed the dam out. The children were quite young and they didn't know how to cope with these things, so they didn't do too well with the farm. They purchased a little sawmill later, which they tried to operate. They got enough lumber for a small house which they built here on their land. The family suffered greatly the next few years from the want of food and clothing and the other necessities of life.

In the year 1884, the two oldest girls were married. Ella Rebecca married a man by the name of Robert Burns Donohoo at Snowflake. The next girl, Adelia, married Thomas Levi Jessup. They were both married very young. Rebecca moved to Snowflake, Arizona, while Adelia went to live at a saw mill not too far away where her husband was working. The next year, 1887, on 27 January, the oldest son Nathaniel was married to Esther Jane Buchanan, a young lady who was visiting here with her sister. They were married at Snowflake, Arizona.

Nathaniel and his young wife lived with his mother for about six months while he worked at Fort Apache. In July, he had promised to take his wife to see her ailing father. Her mother had died while she was living in Arizona. After Nathaniel and his wife left for Utah, this left Rebecca with just the three smaller children. Nettie was just fourteen, the two younger boys eleven and nine years old. The work was too much for the mother, and she became very ill. Erastus and Nettie went to the Fort to see if the doctor would come to see their mother. He said he could not leave the Fort but would look at her if they brought her there. The two children made a bed in the wagon and started for the doctor. On the way the mother became unconscious, and after the doctor had checked her, he told them he could do nothing for her as she needed good food and rest, something these children couldn't give her. She did recover a little and was able to look after things a little, but she never did get really well. When the two older boys, Abram and Cornelius, who were living in Hatch, Utah, heard of her illness, they prepared a wagon and team and loaded the wagon with supplies. Cornelius and his wife, Zina, went to bring the mother and smaller children to Utah.

When Cornelius got as far as Johnson, a little settlement in Kane County, Utah, where Nathaniel had come with his wife, he accompanied him on to Arizona to help with his mother.

Nathaniel blamed himself for his mother's condition, thinking he should not have left her with the smaller children to take care of things. When they arrived, they found the mother very ill and the family were without any provisions and hardly anything to eat. The mother said through tears of joy, "I just knew my boys would come." She was so happy to see them, and, after a few days rest, she coaxed them to start home, thinking she could stand the trip.

They started out and traveled all one day and camped for the night. It seemed as if the mother was standing the trip pretty well, but when breakfast was ready the next morning, the daughter- in-law went to see why she did not come and she found her very ill. She called to the boys to come quickly and the mother turned and looked at her two sons, said a few words, and then she was gone.

This was a terrible tragedy to happen to these people away out there away from any town or friends. The children started -for the little town of Winslow, which was a considerable distance away. There was a little settlement of Latter-day Saints living here and they thought they could have her buried here. They traveled all that day and all night. Floods had washed the roads out and had brought big boulders and trees onto the road. They had to clear their way before they could go on. Nettie had been quite ill also, but when her mother died, she got up and helped to clear the road. That night she walked ahead of the wagon holding a lantern so they could see where to drive, as the road had become so bad they could hardly go on.

The next morning, when they got to the little trading post at Short Creek, they found that the mother's body had swollen up so badly that they realized they could never make it to the settlement of Winslow. The only thing they could do was to prepare to bury her here. With a little bit of lumber they could buy from these people, and with the help of part of the wagon box, they made her a crude casket and buried her the best they could on a little knoll among the cedars where there were a few other graves. This was a sad experience for these children. They had to leave their beloved mother down there alone, away from everything she loved. Cornelius held the Priesthood and had the authority to dedicate the grave. He did so and asked our Father in Heaven to guard and protect the little plot of land and to watch over the body until the time of the first resurrection when she could come forth to take up that body again.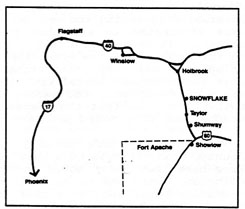 (Some time later, that little cemetery was abandoned and one established in Show Low, some five miles away. Around one hundred years after she was buried, the Workman family bought a fine grave marker and placed it on her grave. In 1985, my wife and I went to find the grave and found that the little cemetery was completely surrounded by water, and we had to wade to get to it. The dedicatory prayer was ratified as no water swamped the cemetery, and the grave was undisturbed. Donald E. Matthews)
Cornelius brought the rest of the children back to Utah where they were cared for by family and friends. Nettie lived in many different homes until she was seventeen years old, when she was married to a young man about two years her senior, Daniel Spencer Allen, who was born 20 July, 1870. They were married in Hatch, Garfield County, Utah, on the 3rd of January, 1889, just a week before her seventeenth birthday. In spite of her youth, she made her own wedding dress all by herself.
After their marriage, they lived in several different towns nearby, any place her husband could get work. Their first child, a daughter, Elzina Marie, was born 5 August, 1891, in the little town called Clifton, Garfield County, Utah. The town was later named Tropic. In 1893, a little son was born, and they named him Daniel Lindsay Allen. He also was born at Clifton (Tropic).
The couple then moved back to Hatch, Utah, where other members of the family were living. While living here, another daughter, Lillie Amanda, was born to them on the 28th of October, 1894. On the 26th of March, 1898, another daughter, Evinda Ellen, was born. The family then moved from here to Washington County, Utah's Dixie. They lived here for a short time. The children were very interested in seeing the men haul big barrels of molasses, and they were fascinated to see them pour the golden molasses from the barrels. It resembled a large, golden ribbon. The larger the hole in the barrel was, the wider the ribbon of golden beauty. Another thing that was very interesting was to see peddlers come around with their wagons loaded with grapes of all kinds. The children would climb up onto the wagons to see the lovely fruit, but the mother told them that the grapes belonged to the men who owned the wagons, and they could not have any without paying for them.
The family made another move, this time to Emery, Emery County, Utah. It was here that Eva Estella was born, 29 May, 1900. From here they later moved to Colorado, and while living here in Colorado, there was an epidemic of diphtheria. It hit this little community hard, and the mother helped to care for the sick in the town until she and two of her children contracted the dread disease. The mother became very ill, as did her baby girl. Her only concern was for her child. She said she must live until her baby died, then she would be ready to go, but with the help of the Lord, they were all three healed.
The father then moved his family to Mack, Colorado, where they were building a narrow-gauge railroad over the mountains to Watson, Utah. the father worked here doing many different jobs all that summer. The next fall, the family went to Vernal, Utah, so the children could go to school. They made the trip with a wagon to carry the furniture and heavy things, which the father drove, and a light buggy for a little more comfortable riding, which the mother drove with the smaller children. As they were going down the main street of Vernal, a man was standing by waiting for them to pass so he could cross the street. As he looked up and saw her driving by in the buggy, he shouted, "That's my sister in that buggy." It was her half brother, Jacob Reader Workman, Uncle Jake, as he was called by everyone in the town. She was surprised that he would recognize her because he hadn't seen her since before she was married, twenty six years earlier. Now, she had been married all this time and was the mother of five children. He had them go to his home where Aunt Mariah made them welcome and the family stayed there until they found a place to live.
While living here in Vernal, they found that they had many relatives on both sides of the family living here; both the Workmans and the Allens. This made life very enjoyable for them as they had a chance to meet all their relatives whom they hadn't seen for many years.
Nettie Allen was a woman who always found time to help her neighbors, and she had a knack of finding all the poor and sick people of the community. She never turned anyone down who needed her help. She went into the homes where death had struck and helped to take care of the bodies until time for burial. These things had to be handled by neighbors and the Relief Society as they had no undertakers or such in the little settlements in the early days of Utah.
It was in the spring of 1911, before time to plant the crops or to move family to the farm, that the father took his equipment, which consisted of a hand plow, hand-dump scraper, grubbing hoe, pitchfork, axe and a few other small implements, and went alone to clear some land for a man for the spring planting. He was to receive a little cash for this work to help provide for his family and help to buy some seed to plant his own land. This kind of work was about all there was to do to earn some money. He was here alone, and one morning he wasn't feeling well when he got up. He cooked himself some bacon and eggs, but when he got started to work, he felt worse and he returned to his home. He remained feeling very uncomfortable, and he was up many times that night trying to silence the family dog, who was excited over there being a strange horse in the yard. A nephew had come to stay overnight.
He was somewhat worse by morning, and he supposed that he had taken cold from getting up so many times during the night. He continued to get worse and the Elders were called in to administer to him. One said that they could feel that he was very ill and that he didn't feel like they were doing right to promise him that he would live.
The doctor was called the next day, and he said he had erysipelas, which was a very severe illness, together with blood poison of the stomach. The father had lifted or otherwise strained himself which caused a hemorrhage in his stomach. This was no doubt the cause of all of his suffering. He remained conscious until his death at four o'clock in the morning of 10 April 1911.
His body was packed in ice so it would keep until they could make a casket for him. It was made out of white pine lumber by the brethren of his ward. There were no undertakers in the town and no other way to obtain a casket. The Relief Society lined it with cotton batts and white outing flannel with a little lace trim around the top. He looked very handsome lying there in his casket with his light brown hair, which was graying a little at the temples, dressed in the robes of the Holy Priesthood. He was laid to rest on April 11, 1911, at Roosevelt, Utah, leaving a wife and five children to mourn his passing.
Two weeks after the death of his father, a sixth child was born on 24 April 1911, the first child in ten years. He was named Willard Spencer Allen. He received the name Spencer so that the father could go on living through his son. This baby was not strong, and his life was despaired of for some time, but he lived and became so loved by his mother that she was admonished by her brother, David Harris Workman, that it was wicked to worship a child as she did this one.
Nettie did not increase in health after the birth of this baby, and she not only consulted the local doctor but went to Salt Lake City to specialists. Always she was told the same thing; a gall bladder operation was needed. She would not submit to this, probably because of the lack of faith or fear of failure. She continued to do what work she could do that would permit her to be with her baby. One doctor told her that a change in climate may help her, but not to go south, as most people do, but to go north. She consulted the family, except Elzina, who was married, 14 August 1912, and all were in accord with the move. She leased the farm and rented the home in Roosevelt, and on June 21, 1915, she and her family left for, they knew not where. They traveled with two teams, the light wagon carrying the equipment and supplies, and a 'white top' buggy for the comfort of the mother and the girls and the little boy. They traveled by way of Duchesne and Strawberry to Salt Lake, where there was a rest period, then north by way of Malad, Idaho, to Pocatello, Idaho, where there was another much needed rest period, and then on to Idaho Falls. Idaho. They arrived there in August. At each rest period, the young people found some kind of work to replenish the supplies.
By now, it was decided to stay in Idaho Falls, for at time at least. The mother set about making preparations, as she always thought that paying rent was like paying for a dead horse. After a little while, she purchased a small house in east Idaho Falls. In the meantime, they had made camp on the bank of the Snake River, in the exact spot where the beautiful L.D.S. Temple now stands. Later on, Susan Barben, wife of Johnnie A. Workman, came to visit and invited her to go to Canada with her. She and Willard went up there for awhile, but even that far north did nothing for her health. In the spring of 1917, they went back to Roosevelt, Utah, as Nettie said that she must be buried beside her husband. After her arrival there, she sold the farm and moved into her home and took up her life of work and service, just as much, and most of the time more than she was able.
In 1920, she went to Whiterocks Indian School to help care for the children there, but she became ill and was taken to the home of her brother, Nathaniel Workman, at Neola, and in spite of good care, she became worse and removed to the Roosevelt hospital, where she finally submitted to an operation Ñ too late. She did not regain consciousness after having been anesthetized. This was November 11, 1920, and she was laid to rest in her beautiful temple clothes, beside her beloved husband, November 15, 1920.
(This part of the story was written by Lillie Amanda Allen Matthews. After it was written, the oldest daughter, Elzina Marie Allen Rice, wrote, in about 1957, about things that she remembered of her parents. Only one page of what she wrote can be found, and that page is written below.)
...... He already was living on the reservation. We had several head of horses and cows, or one milk cow and two calves. One calf got bloated and died. Father went down to Green River to shear sheep and Mother went down to take him some supplies; home made bread, butter and other food, and while there, one of our horses drowned in the Green River. Father had taken the horses there to water them. The team was still harnessed. They waded into the river about knee deep and as one horse put its head down to drink, the other stepped on a strap from the bridle and pulled its head into the water. No matter what Father tried do to make that thirsty horse move, it would not, so the one drowned. Father was able to get the harness off, but, sadly, he watched the horse's body float down the river. The other men who worked there helped furnish money, so Father bought a mare with a small colt, which was a female also and in a few weeks the mare died and another horse also. Oh, what a hard time our family had!
Mother used to go out as a midwife and with so much other sickness, although she had sick spells with gall bladder attacks which she finally died with. Father was road supervisor out on the roads awhile before he died, besides his own farm. Mother always did her share of hard work.
We were on the ranch from 1906 to 1910. Father built a small house in Roosevelt, Utah, a town where the family moved to put the children in a better school, where there would be more teachers. But by that time we had more cattle and horses so did not sell the ranch. Father worked for a blacksmith that winter. Then our baby was on his way into the world and Father and Mother were so pleased, but our wonderful, good father died on 10 April 1911 at Roosevelt, Utah. The baby was born two weeks later.
After Father died, and before the baby was born, Daniel and Lillie went back to the ranch, but the night the baby was born I was with Mother. I was then nineteen years old. Eva was at a cousin's. Soon after, Mother went back to the ranch, April, 1911. She was there 1912 and 1913. Then she leased the ranch and stayed in town. That year she was sick so much but kept on working to support her babies with the help of Daniel. In 1915, she and all her children but Elzina, who was married, went to Idaho Falls where they lived for two years then went back to Roosevelt She sold her house she had bought in Idaho Falls. She had hoped to go to her brother, Cornelius' home in Wyoming, but did not get that far. She wanted to go back to Roosevelt as she wanted to be buried by her good husband. Nettie used to sing in the church choir as she was a beautiful singer. Father sang very well also. Lillie married Ralph Matthews, 8 November, Evinda married Stanley Jay Lamberson, 6 November, and Eva Estella married Otto Jensen, 20 November, while mother lived in Idaho Falls, all three in 1916. Mother and two sons lived at Roosevelt again. Daniel married Mary Wall; 1918, I think it was.
Mother worked very hard to get along. She used to do so much nursing and other work. She lived in Roosevelt through 1919, and passed away 11 November 1920. She went up to Whiterocks, Utah, to the Indian school to teach the Indian girls to cook. She was only there a short while until she had another gall bladder attack. They told Uncle Nathaniel, who lived at Neola a few miles away, and sent for Daniel and the doctor. Then they took her home, back to Roosevelt, where she was entered into the hospital, but it was too late. Elzina was in Washington. Lillie Matthews was in Montana, although she got back home after Mother had died. Evinda lived at Neola, Utah; Eva lived in Idaho. Mother was only 47 years old. Father was only 40 years old when he died. They were two wonderful people.
Father and Mother and Evinda were baptized in 1907 on Indian Bench. The records were lost on Father and Mother and there was a new Ward being organized, and in those days that was done. My parents were very faithful in the Church. Our parents went to the St. George Temple in 1893 when Dan was a baby. (Elzina and Daniel were sealed to them, and the rest were born under the covenant.) PAGE
PAGE 6